FEEDBACK
Read what corporate entertainment planners and campus activities directors had to say after they booked The Evasons for their events.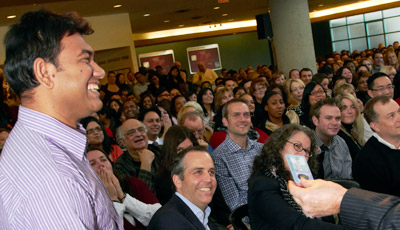 "The entire audience was in awe over your show which helped make this the most upbeat and motivational end to a year that I can remember. I would have no hesitation recommending you for any corporate event. You do a great job not only presenting a remarkable show, but connecting to the company and making it relevant to the audience."
American Express Canada
"Working with Jeff and Tessa was a great experience. They were so organized; it made the planning so easy. On the day of the event they arrived early to ensure that everything was ready. The performance was a hit. Everyone at the event raved about the entertainment, it really made the party a success. I really liked that after the performance they mingled with the guests, it was a nice touch. If you need a great act you can count on, I would definitely recommend working with the Evasons."
Oakville Hydro Energy Services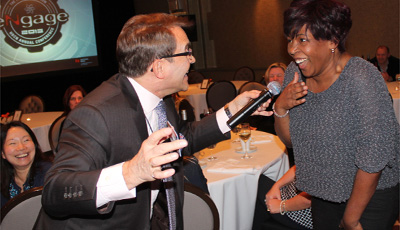 "I thought the show was absolutely incredible and the most mind-blowing experience our guests have ever had. You were wonderful and the performance was a huge hit!"
Crestline Hotels & Resorts
"I was in charge of putting together a holiday party with the main goal of everyone interacting and having fun... It was very easy to work with Jeff thru the business booking process. An element of trust took place from the first phone call we had... Even after the event, informal socialization took place with both Tessa and Jeff, which made us feel unique and special... The next day at the "water cooler", our employees were buzzing about the good time that they had. I got many thanks from everyone, when actually the thanks should go to the Evasons. If someone was on the fence to work with the team, I'd just say that it would be their loss if their goal was to achieve ultimate wonder, interaction and a great time! "
Qforma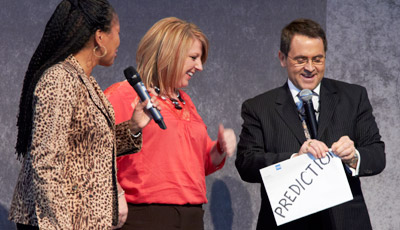 "I can't begin to describe the reaction we had to the show last night. The Evasons inspired a sense of wonder in grown men and women that we can only fondly recollect from when we were children. They were consummate professionals with a deft comedic touch that thoroughly entertained our group. I would recommend their act to any of my colleagues or clients and know that they would be grateful for pointing them in Jeff and Tessa's direction."
Cushman & Wakefield
"To say that our guests were "blown away" by your presentation is an understatement. I have rarely seen them as enthralled."
Allied Beauty Association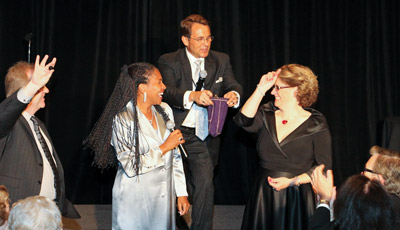 "Your act is very captivating and energetic, it was perfect for our group. You were a big hit and I will not hesitate to forward your contact information to other meeting planners within our company. In addition, I would gladly recommend you to any other organizations considering your services. I found you both to be extremely nice and professional people and very easy to work with."
Standard Insurance Co.
"The combination of your showmanship, personality and fantastic skill all combined to present an extraordinary performance. For a meeting planner there is nothing better after a good performance than to have attendees ask where you found such exceptional talent. You made them ask! Thank you."
Insurance Institute of Michigan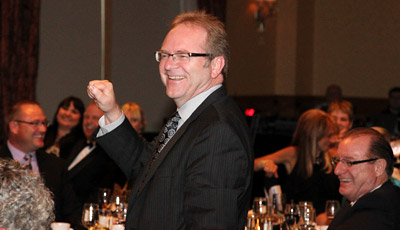 "The Evason's performance was the highlight of the ACNielsen Advisory Board dinner event. Talk about a 'wow' factor, your interactive performance was highly entertaining, awe-inspiring, and fun."
ACNielsen
"This year our planning committee had a difficult time deciding on entertainment for the meeting. Our decision to go with your performance was more than we could have expected. Your professionalism from the website to communication with me and the performance was way above standards. Now that two months have passed we still have associates talking about you and how they enjoyed the performance. I can't thank you enough for the warm personality each of you have and reaching out to people and being willing to lift spirits up."
Kerr Drug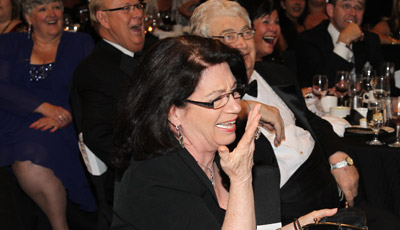 "It was a genuine pleasure to meet you and watch you perform at our Dole All-Stars Incentive trip at Lanai. All of our top sales managers and brokers enjoyed the show immensely. It was, without a doubt, the highlight of the week. Your show was the topic of conversation the next day at poolside and it set the tone for the rest of the week. Personally, your performance lived up to all the accolades given it."
Dole Food Company, Inc.
"You made my job as a meeting planner very easy! Your professionalism and humor made the entire event, from the initial phone call through the event night, a wonderful experience. Your show was the talk of the convention the entire week we were in Bermuda! Any company would be well advised to book your act."
New Jersey League of Community Bankers
"The Evasons were a complete success for our team! They amazed our technical (and somewhat skeptical) audience! One of our execs said that this was the best show he had ever seen! Everything about them was perfect for our event!"
ANCILE Solutions
"The Evasons are very good at what they do ... Tessa is gifted with telepathy ... uncannily accurate"
Baltimore Sun
"They left audiences aghast with their abilities"
Carte Blanche, South Africa
"Tessa has an astonishing gift"
Baltimore Post-Examiner
"Almost too incredible to be true!"
The Straits Times, Singapore
"They turned a roomful of arms-folded skeptics into intrigued believers."
Toronto Star
"Pair's power-of-the-mind act is simply out of this world!"
The Herald, South Africa
"There's no hiding your thoughts!"
Singapore Today
"She was able to see our headlines even before they were written!"
Toronto Sun
"The Evasons simply must be seen to be believed."
Vibrations
"Seemed to convince even the most critical spectator."
Baltimore Post-Examiner
"Their mind-reading act was one of the most incredible displays this reviewer has ever witnessed."
Evening Chronicle, Newcastle Upon Tyne
"I'm not easily amazed but I was amazed."
The Journal, Newcastle Upon Tyne
"Jeff and Tessa Evason left everyone completely gobsmacked. The couple were nothing short of amazing and it's hard to wrap your head around the things they did. The entire audience was left scratching their heads."
Shields Gazette, South Tyneside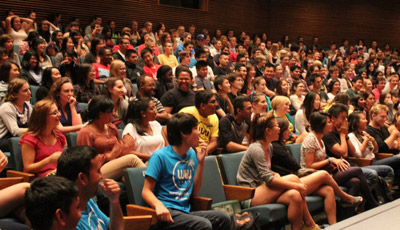 "It's shows like this that make my programming board look good!"
University of West Florida
"You always come with such energy and positive vibes!"
Lawrence University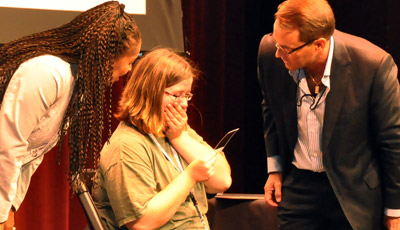 "Two of the kindest people and absolutely one the best performances you can book. Their show will captivate your audience like no other."
Algonquin College
"We are all very blessed to have worked with you!"
West Virginia Wesleyan College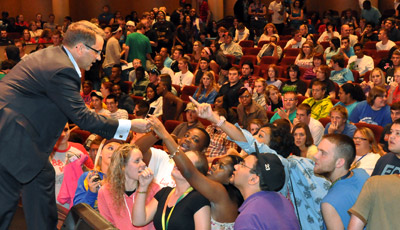 "Their ability to keep the audience entertained is immense and invigorating."
Chesapeake College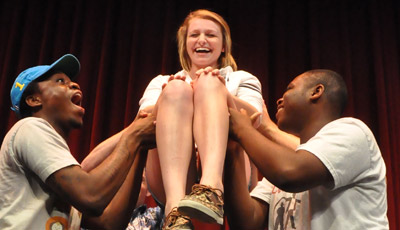 "BGSU loved the Evasons! Really great people to work with!"
Bowling Green State University
"Fantastic mind-blowing show!"
University of Waterloo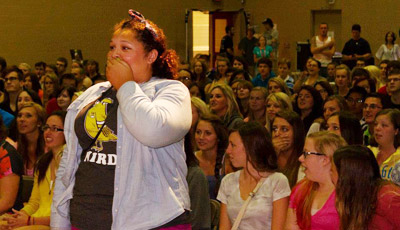 "We usually don't have that enthusiastic of a crowd at these kind of events. The students were just amazed by the show. Also, a lot of students commented on how personable you both were. We all agree that you are two of the nicest people we have ever worked with. Despite the impressive list of places you've performed, you were both so down-to-earth and it was really a pleasure working with the both of you. It's also great to know that even though you've been in this business for 28 years, your show is still refreshing and can illicit that kind of positive response from that audience. That is a testament of your staying power. You are truly a class act and we are looking forward to working again with you in the future!"
UMASS Boston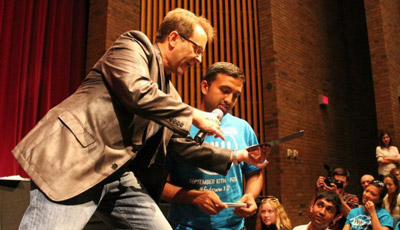 "Jeff and Tessa Evason are amazing to work with, and they were a big hit for our Family Weekend program at the University of Maryland this year. The audience loved their show. It was entertaining, engaging, and filled with lots of surprises that stunned the audience. It's something parents and students talked about for the entire weekend. I often overheard, "How'd they do that?" or "It was unbelievable!" In addition to a great performance, the Evasons are terrific to work with. They are very professional, friendly, flexible, accommodating, and they take the time to interact with the event staff. They are a pleasure to work with, from beginning to end. We look forward to bringing them back again in the future."
University of Maryland
JOIN OUR MAILING LIST
We would love to keep you informed of our upcoming events and let you know when we have something special to announce. We promise not to spam you.
We will never share your email address or your personal information.
That's a promise.